40 YEARS @ DISRAELLY . COM
A time to CELEBRATE LIFE ~ CELEBRATE LOVE
and
to surround ourselves with caring family and friends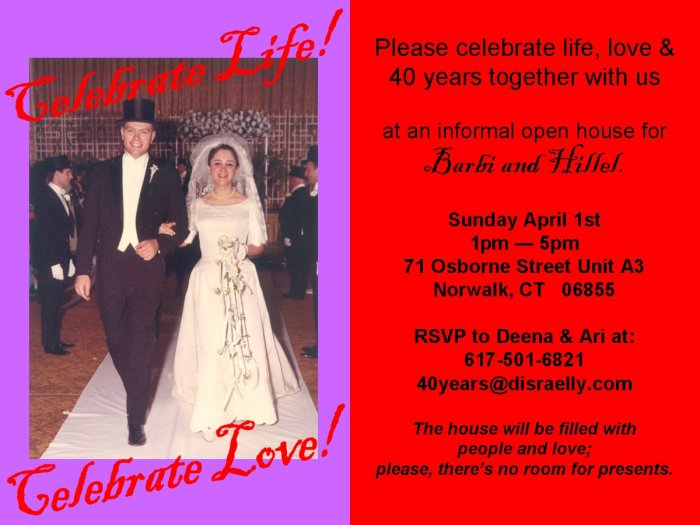 Invitation designed and handmade by Deena ~ Site designed, created and mainted by Ari
you can still go to 40YEARS and leave a memory to share. HUGS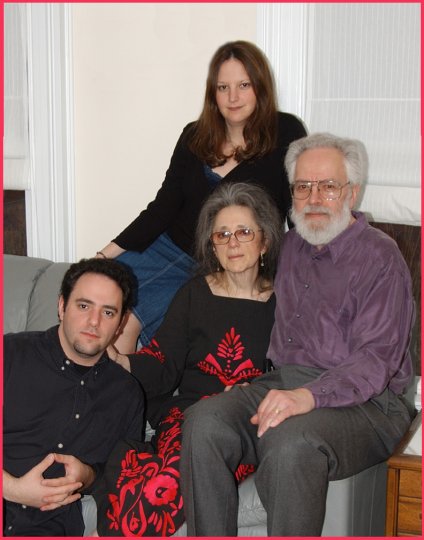 Thanks & Hugs to Flora and John Castrovillari of New Vision Photo for being our friends and for this photo ...
John has developed and printed our photos for years, taken those infamous head-shots and passport glares,
photographed and printed the Pieced Paper PEACE Quilt, and watched Deena and Ari grow.





Ari and Kiernan ... Lynne and Steff ... Myles and Lise



Forty Floating Candles ... Deena ... Bernice and Lester




Danya, Tom, Soozen and Teya ... John, Flora


Kiernan ...Kimmie, Brian, Robin and Nikki ... Mitchell and Stephanie




Julia and Deena ... Mort, Barbi and Carl


Teya, Gideon and MIranda ... Mike ...



Ari and Maria ... Kimmie, Rick, Soozen and Steff




Marlena, Barbi and Michael


Kimmie, Marlena and Steff ... Kiernan, Roy and Sonia ... Joy and Charles

Miranda, Steven and Gideon ... Mort, Vivi, Hillel and Scotti


Hillel, Barbi, Angeliki and Ari ... Steve ... Ari and Deena



Soozen and Tey with bubbly water ... Portrait by Damon Grant ... Danya
Damon came into our lives and hearts when he and Ari were SHS Freshmen
He, Arianna and Kiernan and Randy's parents ~ Sonia and Roy ~ are special players in our extended family.




Anna and Reed ... Jon, Dianne, Karen and Gary ... Rick and Gail



Dan ... Robin


Technical questions about the Web site: ari@darius.co.il
Please include your name in your e-mail.