This show included my new Book Project

FOREVER
A tribute to Ilan Ramon — the first Israeli astronaut
and The Holocaust Torah he took into space.
A tribute made of images — verbal and graphic
The solace that the world took from imagining seven astronauts
and a Torah that had survived the horrors of Bergen-Belsen
never returning to our world again; instead floating peaceful
forever.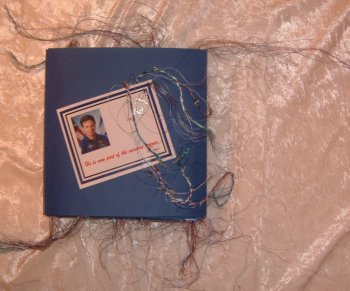 The Title of Work comes from Ilan Ramon's wife Rona's quote
He is part of the universe forever.
Hebrew for forever is l'olam
Hebrew for world is olam
Hebrew for heaven is olam ha'ba
An interactive accordion book created of TUFFKOTE (a layer of polyfilm with kraft paper bonded on both sides)
which strongly resembles astronauts coveralls

Reaction to the book
led to my creating the FOREVER READER
a pleated scroll of the quotes and stories included in the artist book

and a miniature book entitled
PART OF FOREVER
which is intended to repeat and remember the story of the HOLOCAUST TORAH.